Tamagotchi Music Star is a Tamagotchi released in January 2009.The Music Star features a 48×31 screen, without an antenna. The Tamagotchi music star mixes online gaming with raising a tamagotchi. It's so much fun!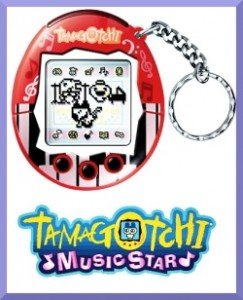 The Tamagotchi starts off with an instrument, toy, and some money. You can pick two things to be on the screen with your tama. One is his/her instrument, and the other is a toy.
At the child stage, the Tamagotchi goes to preschool and receives a new toy. When a teen, you meet two other tamas at school, and you form a band. You play games or practice to gain music skills. At the teen stage, they go to the Gotchi Performing Arts School (GPAS) and join a band with two other characters. The new band is taught by Classictchi until the band members reach adulthood.
As adults, they perform in front of a panel of judges. If any judge votes "no", the band can only do street performances until their next attempt. If the judges all vote "yes", the band debuts as a professional band.
There are 40 possible items, 2 of which can only be unlocked online. There is a total of 60 food items: 2 which the user always has, and 58 more (29 meals and 29 snacks) that can be purchased at the Shop.
On screen, there are always two items present: an instrument on the right of the screen, and a toy on the left. Every 15 minutes, the Tamagotchi will use either of these; instruments will raise skill points but raise stress, and toys will lower stress but raise no skill points and furthermore, the Tamagotchi may be more inclined to play than to practice music. There are 24 toys and 21 instruments.There are several games; 3 are always available, one available only during the child stage, 1 only available at the teen stage, and 3 more available at the adult and senior stages. Standard games can always be played with your Tamagotchi, no matter what stage or weight. They will raise happiness and skill points, but no money is earned from play. The Music Star features 40 characters (2 secret adults and 2 costume adults).
Where can i buy a Tamagotchi Music Star?
Bandai no longer manufacture the Music Star. You can get it online on Ebay and other such Marketplaces. Bandai have, however, re-released the Original Tamagotchi – all of about 40 versions
Tamagotchi Music Star codes, cheats, guide and instructions
The tamagotchi music star is an interactive toy that you can play with, and it evolves into different characters based on how well you can take care of it.But, this tama is different from all the others. You can train your tama to become a great musician! The tama is born with a toy- based on their gender- and an instrument. You can collect new toys and instruments, but your tama will change it's genre of music- where the data of where your tama is- based on your insturment. Based on your toy, it will either love it, like it, or hate it. It will affect the stress points your tama will recieve! TheTamagotchi Music Star Guide from Tama Talk answers some common questions such as What is the cycle of the tama? ; What is the tama school?; etc
Special codes are found on the special guitar pick/charm that comes with your tamagotchi. Here are all the special item codes. These codes are used to obtain furniture for your tamagotchi's room in music city.
08456= Mame desk
B54523= Memetchi kitchen
C90761= Patchi bathtub, jacuzzi
F45247= basketball hoop
T04126= Meme bathtub
TOYS R US CODES
P17377= Spiral mug
P29849= Patchi bed
P39435= Flower bathtub
P45521= Mame bed
P51011= Ninja chocolate store
The Familitchi Blog Tamagotchi Music Star cheats / Codes gives the low down on Tamagotchi Music Star codes and cheats.
More Tamagotchis
A set of Tamagotchi How tos
Tamagotchi trivia
More interesting Tamagotchi stuff and info