Crocs Jibbitz Charms as Birthday Favors, Treat Bag Gifts and Stocking Fillers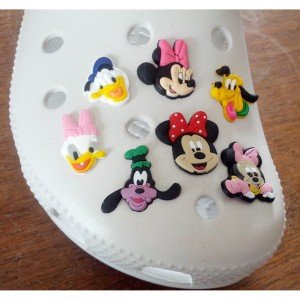 Jibbitz are shoe charms which are fitted into the holes on croc style shoes. They are the craze with little kids. So make sure to include some jibbitz shoe charms for crocs among your birthday favors, in halloween treat bags and as christmas stocking stuffers. They come in sets of 6 to 20 pieces and are ideal for Birthday Favors, Treat Bag Gifts and Stocking Fillers.
There is an amazing variety of the shoe charms now available. Take a look here at some of the popular ones. Many of them can be modified for other uses such as for bracelet charms
Images courtesy of Amazon
Disney Jibbitz Shoe Charms:All the favourite Disney Characters of Disney feature on jibbitz sets. This includes Mickey and his friends, Disney Princesses, Phineas and Ferb, The Little Ponies, and the characters from The Toy Story movie and Cars 2 movie.
3D Crocs Jibbitz Shoe Charms: 3D shoe charms are really cool. They project out from the shoes like real life characters. Water creatures such as sharks, dolphins, mermaids and dragons are most suitable and realistic.
Super Mario Jibbitz
This is a set of 20 Nintendo Super Mario Brothers Shoe Charms, Shoe Snap on Decorations, Charms, Buttons, Widgets, for Clogs, Crocs, Bracelets and More Featuring Princess Peach, Yoshi, Toad, Luigi, Goomba, Koopa.
These nintendo shoe charms and bottle cap magnets and stuff are well made and and donot break off easily with all the Jumpping and running of boys" feet.



Shoe Charms For Girls: This is a collection of jibbitz which catch the fancy of little girls. Multi colored crystal flowers, large flowers with soft colors, crystals with different hues, Hello Kitty, butterfly, ladybug, ice cream, crown and also a pack of cutesy animals

Butterfly, Flower, Ladybug, Ice Cream


Angry Birds and Pig Jibbitz Croc Shoe Charms
Is it any surprise that every kid wants to put Angry Birds charms on their shoes? Better an angry Thunder Bird on the shoe than an angry scowl on the little monster's face! The set here has 6 Angry Birds charms including Thunder Bird, Bomber Bird, Red Angry Bird, Split Bird, Mother Bird and Pig

Cartoons Shoe Charms for Crocs:All the popular cartoon characters are also available as shoe charms. Thomas the Train and Friends, Spongebob and Friends, Kung Fu Panda, Super Hero Spiderman, Star Wars and Batman

Croc a Doodles DIY Croc Charms
For DIY Enthusiasts. If you would rather make your own croc decorations, the Croc a Doodles Kit contains glitter colors to decorate your croc shoes.
These are washable colors, so you can experiment without fear of messing up!