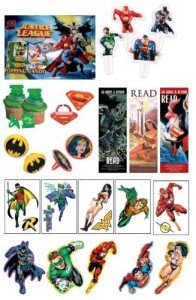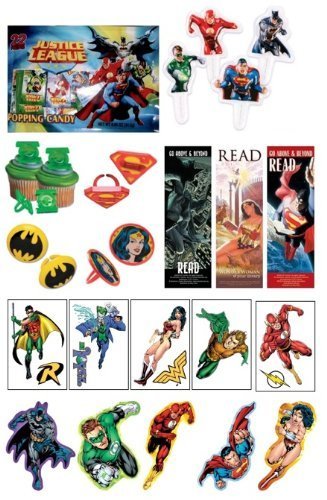 Superhero Party Favors for Birthday Parties and Superhero Themed Parties
Kids worship superman, batman, spiderman and other superheroes. No wonder superhero themes are so popular for birthday parties. Superhero costumes and party supplies are commonly available for such parties. To roundup the superhero theme, one would like to give out superhero party favors. Here are collections of some such favors. Foam Balls, wrist straps, rubber ducks, candy sticks and lollipops, stickers, activity books, all with superhero themes. There are also mixed packs available with superhero themes, which are good value for money and some of them are reviewed below.
Superhero Mixed Party Favors Value Packs
Mixed bundles of party favors featuring superheroes from both Justice League and Avengers teams


Superhero Mini Action Figures Set of 26 Pieces




Marvel Superhero Wristbands Set of 12




Justice League Super Hero Cupcake Picks – 12ct




Marvel Avengers Superhero Party Favors Set of 48 with Superhero Keychains, Snapbracelets, Bounce Balls and Rubber Rings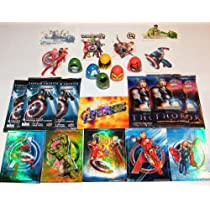 Marvel Avengers Superhero Party Favors Set of 24 with Colored Silicone Wristbands Movie Character Rubber Key Chains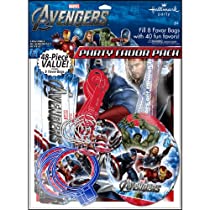 Avengers Party Favors – Superhero Party Masks & Slap Bracelet


Super Hero Favors Dozen Sets


Set of 12 Superhero Party Treat Boxes




Superhero Drawstring Backpack Bags Set of 12




Superhero Pow Inflatable Baseball Bats Pack of 12




12 Sets of Kids Super Hero Costumes with Capes and Masks with Large Superhero Stickers




12PCS Superheroes Action Figures Toy Set 6inches




Supherhero Coloring Books for Kids with 12 Coloring Books and 48 Crayons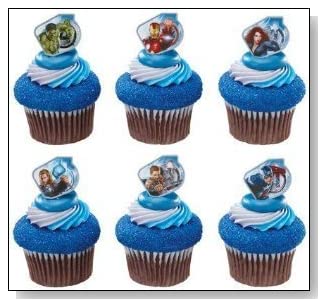 Marvel Avengers Superhero Cupcake Rings
Order these Avengers cupcake rings for a superhero themed party to decorate your cupcakes.The price is great and the rings are of high quality. Kids will love getting their party favors out of their cupcakes.The images on the Rings are great, fully colored and clear, the ring size is adjustable.


Superhero Cupcake Rings and Toppers


NC 25 PCS Superhero Cake Toppers




56 PC Cartoon Superhero Avengers Cupcake Toppers




Ginger Ray Comic Superhero Party Paper Birthday Cupcake Picks 20 Pack




24 pcs superheroes cupcake toppers


12 Super Hero Rubber Duck Party Favors
This is a set of 12 superhero ducks. It is great fun to see the superheroes squirt water out of their beaks. They are cute for playing with outside of the tub.
They"re based on actual super hero costumes and are sure to be a hit with super hero fans.

Yummy Superheroes as Party Favors


Marvel Avengers Shortbread Cookies with Tattoo Sheet 12pk




25 Candy Boxes DC Comics Superman & Batman Designs




7 Pack Spiderman Batman Superhero Silicone Candy Chocolate Molds for Cake Decorations


Watch this video to get tips on how to throw a superhero themed part. You will need Superhero Party Supplies and Loot Bags filled with Superhero Party Favors. The two value packs featured here should take care of most of the party favor needs.


Avengers Party Supplies for 15 Superhero Guests with 200 Plus Items




Marvel Avengers Party Supplies and Decorations Serves 16 Guests with Table Cover, Banner Decor, Plates, Napkins


You may also like to take a look at our Crocs Jibbitz Favors page for more party favor ideas