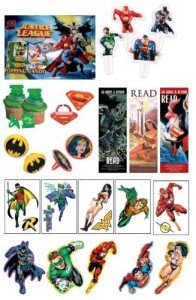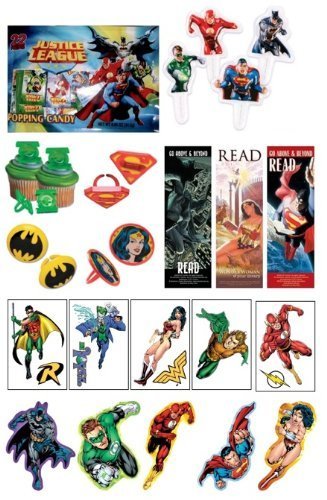 Superhero Party Favors for Birthday Parties and Superhero Themed Parties
Kids worship superman, batman, spiderman and other superheroes. No wonder superhero themes are so popular for birthday parties. Superhero costumes and party supplies are commonly available for such parties. To roundup the superhero theme, one would like to give out superhero party favors. Here are collections of some such favors. Foam Balls, wrist straps, rubber ducks, candy sticks and lollipops, stickers, activity books, all with superhero themes. There are also mixed packs available with superhero themes, which are good value for money and some of them are reviewed below.
Superhero Mixed Party Favors Value Packs
Mixed bundles of party favors featuring superheroes from both Justice League and Avengers teams

24 Marvel Avengers Super Hero Cupcake Rings with 22 Avengers Stickers & Tats – Super Hero Bundle


Marvel Superhero Wristbands Vending Toys Set of 12 Great for Party Favors Goodie Bags


Justice League Super Hero Cupcake Picks – 12ct


Marvel Avengers Superhero Party Favors Deluxe Set of 48 with Movie Trading Cards, Tattoos, Thumbwrestlers and Prismatic Stickers


Marvel Avengers Superhero Party Favors Deluxe Set of 24 with Movie Trading Cards, Tattoos, Thumbwrestlers and Prismatic Stickers


Avengers Party Favors – Avengers Favor Value Pack (Makes 8 Goody Bags!) – Marvel Super Hero Party Favors

Super Hero Favors Dozen Sets

Marvel Heroes Foam Balls – set of 12


Marvel Avengers / Super Heros Wristband Collection Includes the Hulk, Iron Man Thor Etc


Marvel Super Hero Mini Figure Set – Set of 8 Vending Machine Toys – Spiderman, Ghost Rider, Thing, Hulk, Captain America


Super Hero Activity Books With Crayons – 12 per unit


Batman, Superman and SuperHero Squad Coloring Book & Activity Bundle with a Bonus Pack of 24 Crayons


Marvel Avengers / Superheros Thumb Wrestlers Set of 17 Party Favors Fun for 4 or More


Marvel Avengers Superhero Cupcake Rings
Order these Avengers cupcake rings for a superhero themed party to decorate your cupcakes.The price is great and the rings are of high quality. Kids will love getting their party favors out of their cupcakes.The images on the Rings are great, fully colored and clear, the ring size is adjustable.

Superhero Cupcake Rings and Toppers

Marvel Avengers Superhero Cupcake Rings – 8 Pack Assortment [Toy]


Justice League Super Hero Cupcake Picks – 12ct


24 Marvel Super Hero Cupcake Rings – 10 Spiderman Tattoos and Fantastic Four Mylar Bundle


24 DC Super Hero Cupcake Rings with Batman Party Game – DC Super Hero Bundle


12 ct Marvel Comic Super Hero Team Cupcake Rings


8 Marvel Super Hero Figures Party Favors with 12 Cupcake Rings, 8 Goodie Bags and Balloon – Marvel Party Bundle

12 Super Hero Rubber Duck Party Favors
This is a set of 12 superhero ducks. It is great fun to see the superheroes squirt water out of their beaks. They are cute for playing with outside of the tub.
The main disappointment is they don"t float upright, but in the water they lie on their side.
They"re based on actual super hero costumes and are sure to be a hit with super hero fans.
Yummy Superheroes as Party Favors

Justice League Valentine Candy Card Kit 31 Cards + Lollipops with Superman, Batman, Wonder Woman Etc.


World Confections Super Hero Candy Sticks with Tattoo, 30-Count (Pack of 2)


MARVEL HEROES KLIK PEZ CANDY DISPENSER


Marvel Heroes : Iron Man, Spiderman, Hulk & Wolverine " Candy Sticks" 101 ct


Marvel Super Hero Candy Sticks w/Glow in the Dark Tattoo 30 Packs

Watch this video to get tips on how to throw a superhero themed part. You will need Superhero Party Supplies and Loot Bags filled with Superhero Party Favors. The two value packs featured here should take care of most of the party favor needs.

Super Hero Fun Favor Box Party Supplies