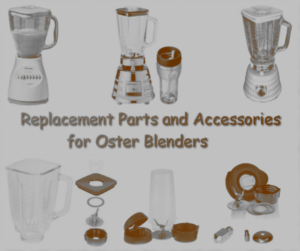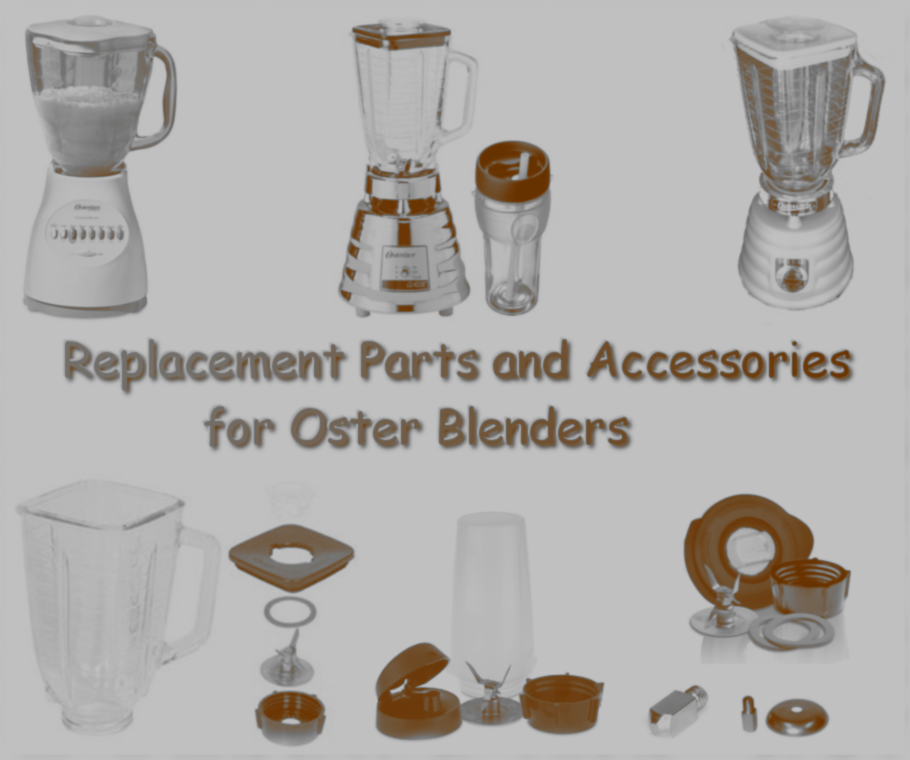 Oster, one of the Pioneers in manufacture of blenders, have released many models of blenders over the years, such as Osterizer, Beehive, Cube, Contemporary, Slope, In2itive and Personal Blenders and have remained among the market leaders in the blenders category. Simple design, ruggedness and long life are a feature of the Osterizer and Oster Blenders. One important advantage for users of the Oster models has been the modular design and continuity in dimensions of the base. Due to this, almost all components such as the jars, blades and seals, fit almost all the models. This is a major relief for those who have old models of Oster blenders still in use. Unlike most other brands, spare parts are available for even 30 year old Oster blender models. Moreover, most of the parts are compatile with the Sunbeam models also. As such, the list of replacement parts for Oster, Osterizer and Sunbeam Blenders is not a large one, as you can see below
Oster provide a few variations of blenders jars. The most common are the 5 cup glass jars. The old ones, still available, were square shaped, while the new jars are round. There are also the clover shaped 5 cup jars and 6 cup jars. These jars fit almost all Oster and Osterizer Blender Models. There is even a stainless steel model available from Blendin
6-piece Blender Replacement Glass Kit

Oster 6 Piece Blender Set Square Top Glass Includes Glass Jar,Base,Blade,Gasket,Lid,Fill Cap

Fits almost all Oster and Osterizer models
5 Cup Square Top 6 Piece Complete Glass Jar Replacement Set

5 cup square top Glass jar fits most Oster and Osterizers Includes 1.25 Liter (40 oz) Glass Jar, Bottom Jar Base Cap, Blade and Gasket, Lid and Filler Cap

Fits almost all Oster and Osterizer models
1.25 Liter – 5.5 Cup Square 6 Piece Oster Blender Part 6 Piece Complete Glass Blender Jar Replacement Kit

Compatible with Oster Blenders,6 Piece Complete Glass Blender Jar Replacement Kit,1.25 Liter (43-ounce),Filter Cap, Lid,Rubber Gasket, Blade, Bottom Cap,Extra Large Capacity Glass Blender Replacement Kit

Fits almost all Oster and Osterizer models
1.6 Liter – 6.8 Cup Square 6 Piece Oster Blender Part 6 Piece Complete Glass Blender Jar Replacement Kit

Compatible with Oster Blenders,6 Piece Complete Glass Blender Jar Replacement Kit,1.60 Liter (54-ounce),Filter Cap, Lid,Rubber Gasket, Blade, Bottom Cap,Extra Large Capacity Glass Blender Replacement Kit

Fits almost all Oster and Osterizer models
Blendin 5 Cup Stainless Steel Complete Blender Jar

Blendin 5 Cup Stainless Steel Complete Blender Jar

Fits almost all Oster and Osterizer models
084036-000-000 Glass Blender Jar -Clover Top

Oster 084036-000-000 Glass Blender Jar (Clover Top)

fits models 6608 6632 6633 6634 6654 6643 6644 6646 6647 6651 6680 6681 6682 6684 6687 6688 6689 6694 6698-015 6750 6751 6753 6760 6792 6793 6795 6796 6797 6798 6799 6804 6806 6807 6809 6810-126 6811 6812 6813 6814 6817 6853 6854 6870 6873 6874-022 6878 6881 6884
5-Cup Glass Square Top Blender Jar

5 cup, square top glass blender jar. Replaces Oster square top glass jars. This is the most common Oster jar type. All Kitchen Centers use this type of jar.

Fits all Oster blender models using a 5 cup jar with a square top. Fits all Oster Kitchen Center models. This will fit all Oster blenders, but if your is a VERY old model (40 years old), using a 4 cup jar or a new model using a 6 cup jar, your lid will not fit and you may need to purchase the OS-060 lid and cap
124461-000-000 Round Glass Blender Jar, 5inch Opening
Replacement 124461-000 Round Glass Blender Jar, 5inch Opening
Blendin Stainless Steel Blender Jar and Lid

Stainless steel blender jar and lid for Oster & Osterizer

Fits almost all Oster and Osterizer models
An oster blender jar set contains, apart from the glass jar, a cover or lid with a filler cap; a blade assembly, a sealing ring and a jar bottom. If your jar is intact and you only need to replace any one of these smaller parts, you can get them separately at much lesser cost than the cost of the whole jar assembly.
Apart from the standard blades, or agitator assembly as Oster calls them, Oster has also released other blades including Ice Blade, Milkshake blade and fusion blade for different purposes
031014-104-000 Blender Cutting/Ice Chopping Assembly

Fits the following models: 3066 3067 3093 3094 3111 3112 KF140 KF1504

Fits the following models: 3066 3067 3093 3094 3111 3112 KF140 KF1504
4961 Ice Blade

Blending Blade With Sealing Ring. Stainless Steel Blade for Perfectly Crushed Ice

Compatible with Most Oster 5 & 6 Cup Glass or Plastic Jars
Milkshake Blade
The Oster Blender Milkshake Blade is compatible with the following Oster 5 and 6-cup Jar models: Accurate Blend Exact Blend Heritage Blend Liquefy Blend Perform Blend Precise Blend Pure Blend Rapid Blend Reverse Crush Simple Blend Starter Blend
118530-001 Fusion blender blade cutter 4980

Heavy duty ice crusher 6-point steel blender blade

Designed for the Oster Fusion Blender and Food Processor models Also can be used in place of standard OS-010 and OS-015 as an upgrade
If your blender motor is working, but the blade is not rotating, you need to take a look at other parts such as the Drive Stud and Drive Coupling, which may have got worn out. These small parts are also available separately for putting your blender back in working condition. You will need to open the blender base for replacing these parts.
Blendin Replacement Coupling Kit
Fits Oster Blender Models: 6628, 6630, 6631, 6632, 6633, 6634, 6635, 6636, 6640, 6641, 6642, 6643, 6644, 6645, 6646, 6647, 6648, 6652, 6653, 6654, 6655, 6656, 6657, 6658, 6662, 6663, 6664, 6665, 6667, 6668, 6672, 6673, 6674, 6675, 6676, 6677, 6678, 6679, 6680, 6681, 6684, 6686, 6687, 6688, 6689, 6692, 6696, 4100-8, 4102, 4101-8, 4165-8, 4106-8, 4108-8, 4109, 4110, 4111, 4112-8, 4114, 4115, 4117, 4125, 4126, 4127, 4128, 4129-0, 4132, 4134
Blendin Rubber Drive Coupling

Rubber coupling located below OS-070 square drive pin.

Fits ALL Oster blenders, Osterizers and Oster Kitchen Centers. Also fits some Sunbeam models which use a metal drive pin.
Blendin Square Drive Pin, Short Type
Fits Oster Blender Models: 6628, 6630, 6631, 6632, 6633, 6634, 6635, 6636, 6640, 6641, 6642, 6643, 6644, 6645, 6646, 6647, 6648, 6652, 6653, 6654, 6655, 6656, 6657, 6658, 6662, 6663, 6664, 6665, 6667, 6668, 6672, 6673, 6674, 6675, 6676, 6677, 6678, 6679, 6680, 6681, 6684, 6686, 6687, 6688, 6689, 6692, 6696, 4100-8, 4102, 4101-8, 4165-8, 4106-8, 4108-8, 4109, 4110, 4111, 4112-8, 4114, 4115, 4117, 4125, 4126, 4127, 4128, 4129-0, 4132, 4134
Blendin Coupling Stud Slinger Pin
Blender Stud Drive 026247-000-000

Brand new Sunbeam / Oster blender stud drive, 026247-000-000.

Fits models: 0041, 4090, 4093-8, 4094, 4100-8, 4101-8, 4102, 4105-8, 4106-8, 4108-8, 4109, 4110, 4111, 4112-8, 4114, 4115, 4117, 4123, 4125, 4126, 4127, 4128, 4129, 4132, 4134, 4141, 4142, 4143, 4144, 4242, 442, 5000-08, 5000-25, 6628, 6630, 6631, 6641, 6648, 6656, 6665, 6672, 6673, 6674, 6675, 6676, 6677, 6678, 6679, 6680, 6681, 6684, 848-31, 852-08, 852-20, 854-35, 861-66, 867-28, 869-18, 869-81, 880-20, 887-20, 890-08, 890-20, 890-22, 890-30.
Blender Drive Stud And Slinger Part

Sunbeam Oster Blender Drive Stud And Slinger Part for Sunbeam & Oster Blenders.#0029/39

Fits almost all Oster and Osterizer models
These are additional accessories and attachments to extend the functions of your blender for food processing, grinding and such
Blend-N-Go Smoothie Kit

For anyone on the go. Blend directly in this 20-ounce cup, remove the blade and add the drinking lid. Fits in most car cup holders.

Fits almost all Oster and Osterizer models
4861 Food Processor Accessory

Food processor accessory to chop, cut, grind and mix light dough. Lid tightly locks onto bowl and includes an opening to add liquids. Clear processing bowl with 3-cup capacity. Base easily sits on any Oster blender.

Fits almost all Oster and Osterizer models
4937 Mini Jar Accessory

Accessory to grind coffee beans or baby food in your blender. Put the ingredients in the 8 oz mini jar, place the blade assembly and blend the ingredients right top of the blender.

Fits almost all Oster and Osterizer models
4888 2-Piece Jar Electric Blender, Mini

This is a Set of 2: Oster 8 oz. Plastic Mini Jars with Lid. Convenient for blending baby food, grinding coffee beans, spices, nuts and more

Fits almost all Oster and Osterizer models