We have reviewed the ICFC1T as a suitable clock radio for the seniors due to its simplicity and ease of use. However, not all elderly folks find tech stuff confusing. Quite a large number of them embrace technology and like to play around with gadgets ( with some help from grandchildren sometimes 🙂 ). These folks expect all the latest bells and whistles in their gizmos. The Westclox 81012BT Dual Clock Radio
is a Clock Radio, which, at a budget price, comes with the features found in high end clock radios costing two to three times more!
What do we need from a Modern Clock Radio?
and how does the Westclox 81012BT Dual Clock Radio fulfill these needs?
Standard Features
The usual features that all good clock radios have – Dual Alarm with Snooze, Brightness Control, Digital FM Radio Tuning with Preset Stations, Ease of use. The 81012BT has them all.
Large Display
This model has 1.2″ backlit LED display which is pretty large and easily visible from a fair distance. The jumbo sized models in the market usually have 1.8″ displays, so this one is almost as big as the largest displays.
USB Charging
Since most people like to keep their cellphones within reach at their bedside, a USB charging port in a clock radio comes in handy to charge the phone.
Bluetooth
In a wireless connected home, even the humble clock radio is not left out! With Bluetooth connectivity, you can Connect & Stream Music Wirelessly from Bluetooth Devices to your Westclox 81012BT. So if the Radio Jockey at your favourite FM Station is having an off day, you can go to sleep listening to your favourite music from your ipod or mp3 player.
Some Alternatives – More Clock Radios with Bluetooth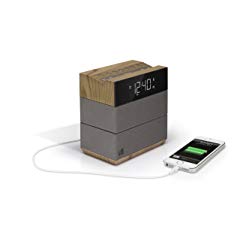 Soundfreaq Sound Rise SFQ-08WT Wireless Bluetooth Speaker + Alarm Clock with FM Radio and USB Charger
For double the price, this model gives superior sound output, but has a smaller display.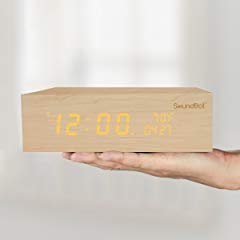 SoundBot SB1010 8 in 1 Multi-Function Station
The SoundBot SB1010 has lots of bells and whistles – Date, Time, Temperature, Bluetooth speaker, Stereo Audio Speaker, Built-In Microphone, Alarm Clock, Thermometer, 2.1A USB Charging port, 3.5mm Audio Port. Unfortunately the alarm clock feature is not all that user-friendly and the sound quality is just about there.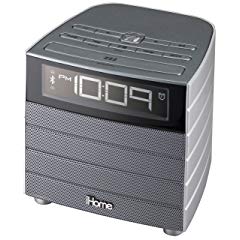 iHome iBN20GC Bluetooth wireless FM Clock Radio
The iHome iBN20GC is a Bluetooth Clock Radio with good looks and good features. But again, like quite a few models on the market, in the quest for extra features, the manufacturers seem to have ignored the basic function – the alarm clock does not have dual alarm and setting the alarm is a real chore
.