Oster, one of the earliest and well established blender manufacturers, have many popular and successfull blender models to their credit.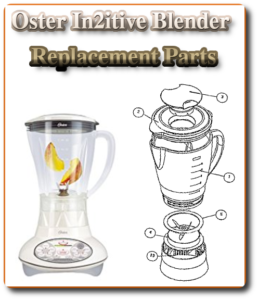 Unfortunately, the In2itive range of blenders is not one that Oster and their customers would be happy about. Which is a shame, because in concept and design, these are wonderful, elegant, convenient and futuristic. Featuring One-touch operation , Pre-programmed cycles to prepare food and drinks, progress indicator, the blender turns off and beeps when finished. The hitch, though, is in the implementation of the design, which has resulted in a number of problems such as leakages from the jars, clips on the bottom of the skirt snapping off, motor locking up, black oil, broken toret wheel. The blade enclosure/sealing mechanism is cheap plastic. The locking indents wear real fast, so the sealing ring doesn't seal, and leaks. Due to the high rate of failure, Oster have stopped production of the In2itive range of blenders and unfortunately, parts for these models are not easily available. Even more unfortunately, in a break from their long tradition, Oster changed the dimensions of the jar and seal and put a skirt in place of the bottom seal. So, Oster replacement jars, seals and other parts, which fit into practically all the other 100 odd Oster models, are not suitable for the In2itive models. The few parts, specific to Oster In2itive Blenders, which continue to be available are listed below
Replacement Parts for In2itive 6700, 6710, 6711 Models
Replacement Parts for In2itive 6704, 6705, 6712 Models
If the above parts don't serve your purpose, your best option is to
contact Oster directly
. Some of the customers have reported receiving either refunds or replacement of complete blender.