These are some replacement parts and additional accessories for the most popular multi function electric cookers from Instant Pot.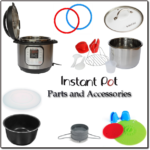 These cookers come in three sizes – 3 qt, 5/6qt, 8qt. The 6 qt is the most popular model and most parts are easily available for this size. Most of the parts for the 6 qt models also fit the 5 qt models.
Replacement Parts for different sizes
Parts such as lids, sealing rings, inner pots and steamers are mostly compatible with all models of instant pots of the same size. So a lid for a 3qt ultra will fit a lid for an ip-lux. The parts on the lids such as the float valve and steam relase will be different
Replacement Parts for different models
Parts such as float valve, steam release, steam diverter and power cord are different for different models. So a steam diverter for IP-Lux would fit on all sizes of IP-Lux Cooker – 3 qt, 5 qt, 6 qt and 8 qt, but not on a Duo or Ultra Model
Instant Pot Plastic Bottom Replacement
If your instant pot base plastic bottom got burnt, you are not alone. Lots of other users have faced this problem. But Instant Pot DO NOT provide a replacement plastic base. And there is no easy solution. Some enterprising geeks(?) have 3d printed replacement bases.
Here is one for an IP-DUO60 v2
And one for an IP-DUO80 V2
if any of these is the same required size, you can download it and get a 3d print. There are third party services who would do the printing for you if you provide the drawings.
Here is a link
with more information on such services
Instant Pot Multifunctional Pressure Cooker Accessories
These parts and accessories are common to the 5,6 or 8Qt models
Some Useful Links