Presto Percolators are sturdy appliances made of stainless steel.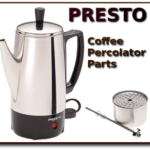 With basic care, one should get good service for many years out of these coffee makers. Some folks find a reduction in performance with time. This usually happens when the basket holes get clogged with coffee powder. This may be due to using very fine grind of coffee power. Cleaning the basket with a brush to clear the clogged pores should solve this problem. At times, the basket or basket lid may get misplaced. Sometimes, the electric cord may get damaged accidentally. The replacement parts, listed below, for Presto coffee percolators, gives details of the commonly required parts to get your Presto Stainless Steel Coffee Maker back in action.
For more details about Presto Percolator, Stainless Steel Coffee Maker Parts, and to contact Presto Support, visit the
Presto website
.