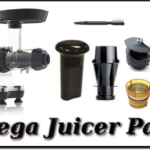 This is the list of replacement parts for the J8000 series masticating juicers from Omega Juicers, including the 8003, 8004, 8005 and 8006 models. Many of the parts also fit the 8007 and 8008 models.
Two good reasons to check with
Omega Customer Support
before ordering your replacement part -1) Omega Juicers are covered by a 15 year warranty, except for body and blade, so you can confirm if your required part is covered under warranty. 2) Most parts are available for lesser price on the
Omega Juicers website
, including some such as Hopper/Funnel and Straining Sieve which are not available on other online stores. You can get
instruction manuals for the Omega Juicers
, including the J8006, on the Omega Juicers website.