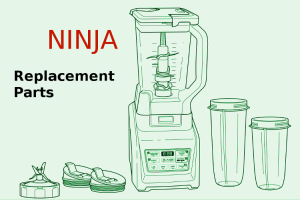 Some of the most popular blenders and food processors have come from the Ninja and Nutri Ninja brand, including the Ninja Master Prep, Ninja Professional, Ninja Ultima and Nutri Ninja with Auto IQ. The raw power, evidenced by more noise than competing blenders, and super sharp blades, which can cut skin if mishandled even slightly, translate into super fast and efficient blending and food processing. The flip side is, Ninja blades appear to wear out faster. As with other blenders, there are also quite a few customers hunting around for replacement lids Unlike other brands, the pitchers or bowls ( or cups ) are not made of glass, but are made of BPA-free plastic. So the requirement of replacement pitchers is not much, except when the pitchers get scratched due to prolonged rough usage.
This is a compilation of ninja replacement parts, ninja blender accessories and ninja food processor attachments for most of the Ninja models.
The most commonly required ninja replacement pitchers, ninja replacement blades, ninja replacement cups, ninja replacement lids, ninja replacement jars and ninja food processor bowl replacements are listed above. If your model is not shown above, you can try searching on the Ninja Website.